We pride ourselves on brewing drinkable beers across a wide variety of tastes and styles. Check out our lineup of our core beers and take a peek at our current draft menu for seasonals and one-offs. There's something for everyone at Tinhouse.
Our lounge and patio is located right off the Traboulay Poco Trail.
We may be a bit hard to find, but once you do, we know you'll be glad you did!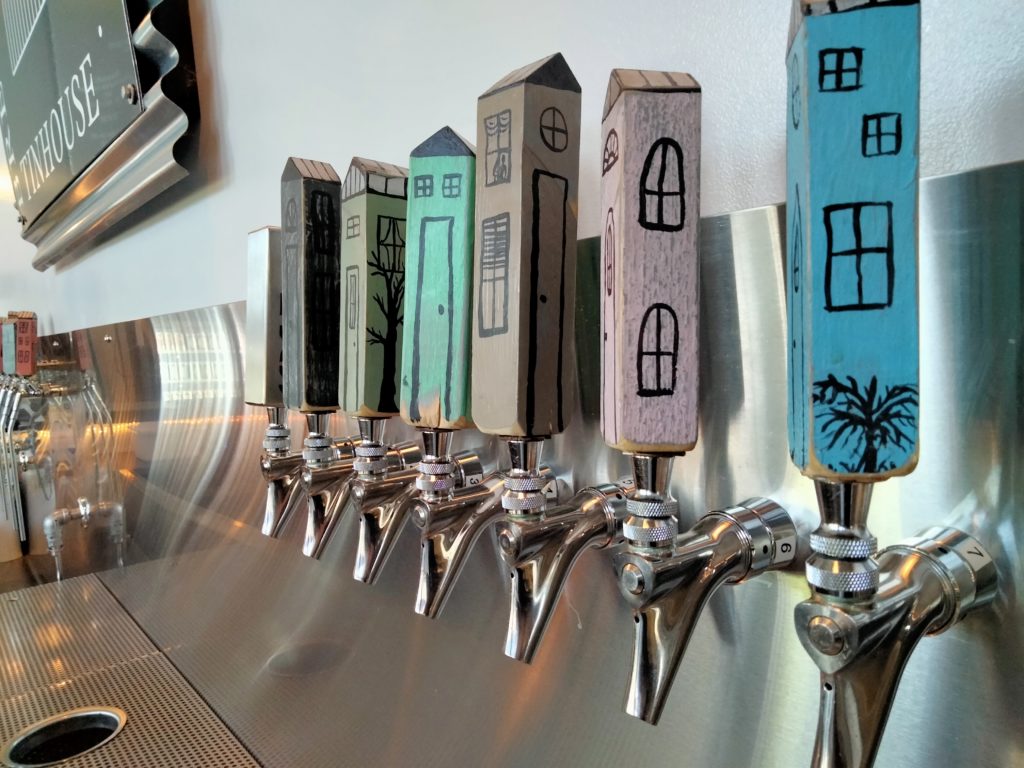 A gorgeous, double soured golden ale – kettle soured with primary lager fermentation, and a secondary lactobacillus souring, after a generous addition of pears – and aged on bourbon oak for a smooth finish.
A British-style pale ale – malt forward, subtle bitterness, and a beautiful amber hue.
Juicy East Coast IPA with tons of hops flavour, tropical fruit notes, and subtle bitterness.
Lunar Shift Vietnamese Coffee Stout
Brewed for Tet New Year or Lunar New Year, our take on Vietnamese Coffee (cà phê sữa đá). This style of coffee is served cold on sweetened condensed milk. We have made this beer in partnership with Ghost Roaster Coffee, a local coffee roaster out of New Westminster, with Brazil Daterra Full Bloom 100% tree dried natural coffee.
Easy finishing East Coast ISA – the baby Hazy IPA!
Roundhouse Imperial Porter
This rich, bold Porter is sure to keep you warm through these rainy winter days.
Run of the Mill Peppercorn Saison
Franco Belgian-style saison with white peppercorn and bitter orange peel. Amber hues. Fruity and spicy.
Full bodied dry porter with big coffee and chocolate punches.
A British/West Coast style IPA. Loads of citra hops and balanced maltiness.
A clean, refreshing pilsner-style lager in the style of 1516.
This American Wheat Ale is a light, traditionally unfiltered beer, containing 50% wheat malt
Where the Wild Beers Are IPA
This bold wild IPA was brewed in collaboration with our friends at Escarpment Labs, using their Optimus Primary Brett-forward yeast blend, and was open fermented for two months.
A British brown ale. Brewed for the everyday working Joes and Joannes.
GUEST TAPS, CIDER, WINE, NON-ALCOHOLIC
Craft sodas from Callister Sodas, Sun-Rype juice boxes, Coca-cola products. Pour-over coffee and tea for those who want a warm drink. Selection and prices vary.
Our rotating cider tap – changes regularly!
White, Rose or Red blend from The View Winery (Naramata).