We pride ourselves on brewing drinkable beers across a wide variety of tastes and styles. Check out our lineup of our core beers and take a peek at our current draft menu for seasonals and one-offs. There's something for everyone at Tinhouse.
Our lounge and patio is located right off the Traboulay Poco Trail.
Bring your lunch, order in (we recommend Emilio Finatti Pizza – they will deliver right to your seat!), or grab a snack from the bar.
Outside food is always welcomed.  We host a rotating list of food trucks on weekends – check our social media for details on which ones will be on site.
We have ample bike parking – so why not ride here?
We are kid-friendly, and good doggos are allowed on our patio (on-leash, please).
Public keg sales can also be arranged through our lounge (Sankey connections only).
We may be a bit hard to find, but once you do, we know you'll be glad you did!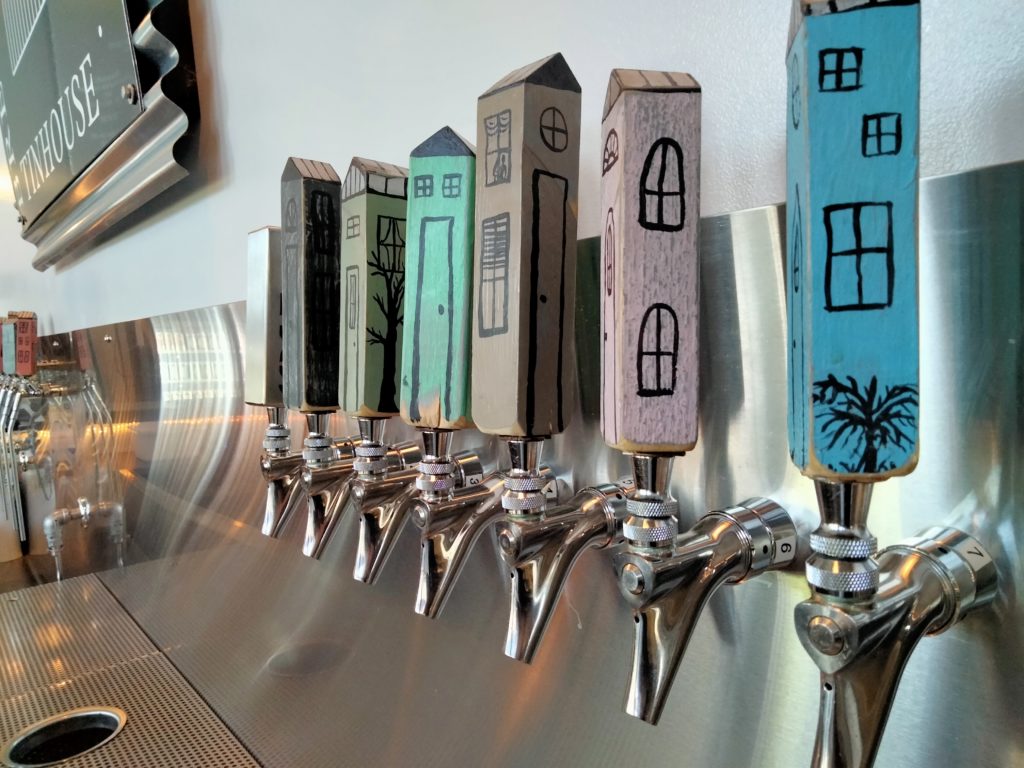 A British-style pale ale. malt forward, subtle bitterness.
Juicy East Coast IPA with tons of hops flavour, tropical fruit notes, and subtle bitterness.
Easy finishing East Coast ISA – the baby Hazy IPA!
Open-air fermented for over a year, then refermented and bottle-conditioned with Champagne Yeast.
No.34A Barrel-Aged Apricot Sour
Our No.34 Farmhouse Sour aged in oak barrels with apricots. One keg only! 750mL bottles available for a limited time only!
No.34B Barrel-Aged Cherry Sour
Our No.34 Farmhouse sour barrel-aged in oak barrels with sour cherries. One keg only! 750mL bottles available for a limited time only!
No.97 Barrel-Aged Cranberry Wheat
Our Wetlands Wheat ale barrel-aged in bourbon barrels, with fresh cranberries, then bottle conditioned. Lightly tart with a dry finish.
Roundhouse Imperial Porter
This rich, bold Porter is sure to keep you warm through these rainy winter days.
Run of the Mill Peppercorn Saison
Franco Belgian-style saison with white peppercorn and bitter orange peel. Amber hues. Fruity and spicy.
Full bodied dry porter with big coffee and chocolate punches.
A British/West Coast style IPA. Loads of citra hops and balanced maltiness.
A clean, refreshing pilsner-style lager in the style of 1516.
Where the Wild Beers Are IPA
This bold wild IPA was brewed in collaboration with our friends at Escarpment Labs, using their Optimus Primary Brett-forward yeast blend, and was open fermented for two months.
A British brown ale. Brewed for the everyday working Joes and Joannes.
Back for 2022! A traditional Octoberfest beer, our Vienna Lager has a beautiful caramel colour, well-rounded malt profile, and subtle hop bitterness for a very drinkable, balanced beer.
GUEST TAPS, CIDER, WINE, NON-ALCOHOLIC
Our rotating cider tap – changes regularly!
White, Rose, or Red blend from The View Winery (Naramata).