We pride ourselves on brewing drinkable beers across a wide variety of tastes and styles. Check out our lineup of our core beers and take a peek at our current draft menu for seasonals and one-offs. There's something for everyone at Tinhouse.
Our lounge and patio is located right off the Traboulay Poco Trail.
We may be a bit hard to find, but once you do, we know you'll be glad you did!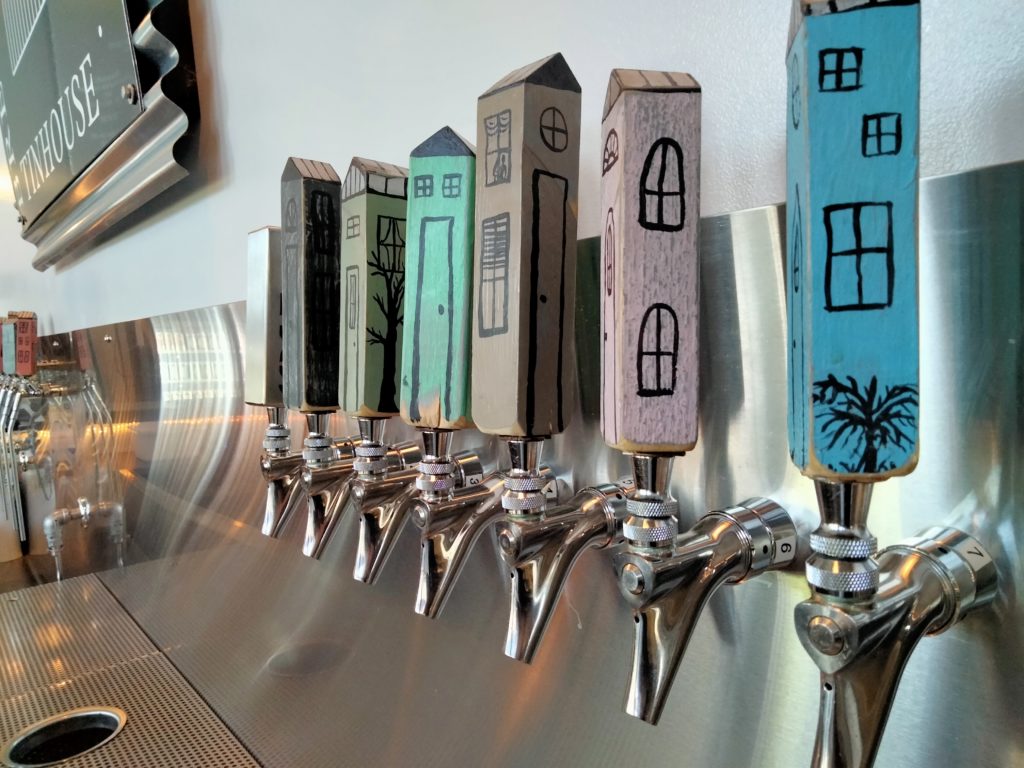 A British-style pale ale – malt forward, subtle bitterness, and a beautiful amber hue.
Juicy East Coast IPA with tons of hops flavour, tropical fruit notes, and subtle bitterness.
Higher Knoll Double Hazy IPA
It's BACK! The big brother to our High Knoll Hazy IPA, this is a doozy of deliciousness.
Fruity and refreshing, this peach sour with Lactobacillus and a hint of Vanilla is a sweet-tart way to finish off summer!
No.101 Barrel-Aged Roundhouse Imperial Porter
Our Roundhouse Imperial Porter was barrel-aged in Bourbon barrels for 12 months, and bottle conditioned. Toasted malt, coffee and chocolate notes, balanced with a mellow Bourbon finish. Enjoy now or cellar for later.
No.104 Barrel-Aged Saison
Our Run Of The Mill Saison that spent a year aging in Bourbon barrels generously donated by our friends at Dageraad Beer, and bottle conditioned for another 6 months.
An easy drinking English Bitter Ale that's perfect for the matchday rivalry. And knowing #PoCo like we do, there's a bit of a Northside vs Southside thing goin' on.
Poco Pivo Italian Pilsner
Brewed with Adriatic pilsner grains, and lightly hopped with Saphir hops, this slightly-cloudy pilsner boasts a soft mouthfeel and easy finish. Great with food, on a sunny patio perhaps?
Run of the Mill Peppercorn Saison
Franco Belgian-style saison with white peppercorn and bitter orange peel. Amber hues. Fruity and spicy.
Full bodied dry porter with big coffee and chocolate punches.
A clean, refreshing pilsner-style lager in the style of 1516.
Unleash the Kritten! Oatmeal Pale Ale
This amazing Oatmeal Pale Ale was developed and brewed by the badass women of Tinhouse Brewing celebrates and supports the KPU Diversity in Brewing program.
Our lightly cloudy Belgian-style wit (wheat) beer shows hints of orange peel and coriander. Easy drinking on a hot day.
A British brown ale. Brewed for the everyday working Joes and Joannes.
GUEST TAPS, CIDER, WINE, NON-ALCOHOLIC
Grey Fox Gluten Free Beer
When available, we provide a dedicated tapline for gluten-free beer from Grey Fox Brewing, in Kelowna BC. Selection and prices vary.
Craft sodas from Callister Sodas, Sun-Rype juice boxes, Coca-cola products. Pour-over coffee and tea for those who want a warm drink. Selection and prices vary.
Our rotating cider tap – changes regularly!
White, Rose or Red blend from The View Winery (Naramata).
04 November
– 31 December
Saturday
#2140 – 550 Sherling Place, Port Coquitlam
#2140 – 550 Sherling Place, Port Coquitlam
#2140 – 550 Sherling Place, Port Coquitlam
#2140 – 550 Sherling Place, Port Coquitlam
#2140 – 550 Sherling Place, Port Coquitlam
No event found!